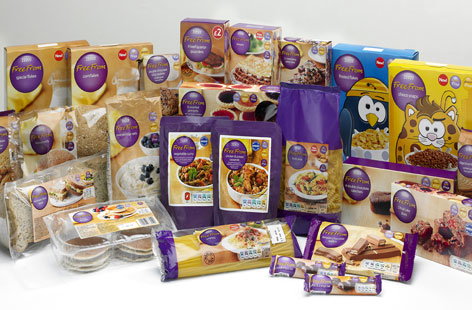 Food allergies and intolerances can make shopping hard work, so we've developed a delicious range of products that are free from gluten, wheat and/or milk free, to make your mealtimes easier – and tastier.
No more missing out, with everyday Free From alternatives
It can be frustrating sticking to the foods you can have rather than those you would like because of a food allergy or intolerance. But at Tesco there's no reason why you should. We've created a range of more than 150 products that are free from gluten, wheat or milk, from a great selection of breads to a huge variety of other everyday items and tasty treats. In fact there's everything from sausages and pasta to breakfast muffins and chocolate brownies.
Plain, straightforward labelling makes it simple to avoid allergens
Products that normally contain wheat include bread, cakes, pasta, pizzas, pies, soups, sauces and breakfast cereals, as well as many processed foods. It's also found in rusk, an ingredient in many sausages and burgers. In addition to our Free From range, all Tesco branded products feature an 'Allergy Advice' section on the back of pack highlighting any major allergens e.g. gluten and wheat, they contain.
The only intolerable thing? The temptation
We understand that an allergy or intolerance doesn't just stop you eating basics like bread or pasta, and that sometimes it's the more unusual or indulgent foods you miss most. We were the first UK supermarket to launch Free From ciabatta and bagels, and our specialist development teams are always on the lookout for new ideas, to make sure you can enjoy food as much as ever. Watch these pages for all the latest additions to the range.
To make things even easier, most of the Free From range can be found in a dedicated section in store - just look out for the distinctive purple and yellow packaging. Products are subject to availability, in selected UK stores. We also have a small range of items in the frozen category, and a selection of Free From sausages.
New Chilled Dairy Free From Range
At Tesco, we know lots of our customers look for alternatives to dairy products. Whether it's because of an allergy or intolerance, or simply for health reasons, if you're choosing to avoid dairy, we think you'll love our new chilled 'Free From' range of milk, spread, yogurt, dessert and cheese alternatives. Find out more about the new chilled Free From dairy range>, available in these stores.
Click here to download a list of our Free From range.
Click here to see the range available from your local store or if you wish to shop for your groceries online.
For a full list of all milk free products available at Tesco please click here.
For a full list of all gluten free products available at Tesco please click here.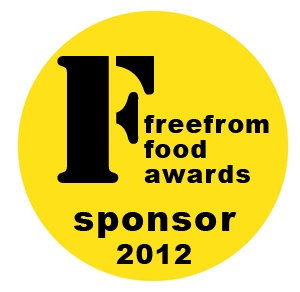 Tesco is really pleased to announce that as well as being a proud sponsor of the Free From Food Awards 2012, we have now also been shortlisted for the following products:
Award: Free From Breakfast Cereals
Shortlisted:

Tesco – Free From Special Flakes
Award: Gluten-free scones, sweet tarts, Bakewells, cake bars, muffins etc.

Shortlisted:

Tesco – Free From Chocolate Chip Cookies
Shortlisted:

Tesco – Free From Ginger Cookies
Now in their fifth hugely successful year, the Free From Food Awards, founded and run by www.freefromfoodsmatter.com, celebrate the innovation and imagination shown by the food industry in creating foods that do not include one or more of the ingredients associated with the many chronic health problems that plague the 21st century.